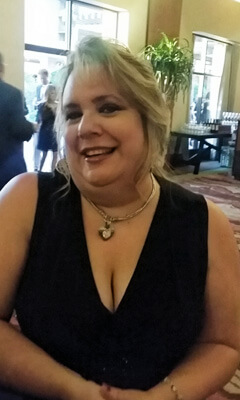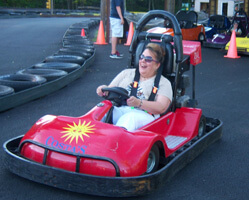 Philly Viscardo - 8/17/65 - 3/30/2016
Philly, a Milford resident, was born in the Bronx, NY and then later moved to Orange County, NY. She graduated from Warwick Valley High School. In 1990, she married her husband John. She remained in Orange County, NY and then later moved to Milford, Pa in 2001. Her pride and joy were her two sons, Justin and Ryan. She also leaves behind her step daughter Jennifer, her mother Pat, brother Nick, several nieces and nephews.
In 1988, Philly launched her insurance career working for a local agency in Orange County, NY. Once she moved to Pike County, she saw a strong need for an insurance agency in the Dingmans Ferry area. In 2006, she and her friend and business partner, Rebecca, purchased a franchise. In November of 2006 they opened their doors in Dingmans Ferry under the name of Brooke Insurance and Financial Services. In 2008, they parted ways with their Franchisor and officially became Dingman Delaware Insurance Agency, LLC. They are the first insurance agency in Dingmans Ferry and are located, just south of the intersection of Route 739 and Milford Road, on Mary Lous Way. In 2013, they became a Farmers Insurance Agency.
Philly vowed that once her business doors were open, she would do whatever she could to give back to the community. She joined the Chamber shortly after opening in 2006. A few months later, joined the Women in Business Committee. She continued to attend many of the networking and other events. In October of 2009 Philly was appointed to the Board of Directors and shortly thereafter became Chair of the Women in Business Committee. Philly has played a big role in implementing the Business Expos and has coordinated other events within the WIB committee. Being a woman in business herself, Philly was passionate about the Women in Business committee and doing what she could o educate and support other woman in the community. Additionally, Philly was a member of the By- Laws committee, the Executive Committee, the Membership committee and the Partnership committee. Philly was elected as secretary in December of 2010, then voted in as President in 2012 and 2013, became Treasurer in 2014 and voted back in as President in 2015 and Past President and Director in 2016. In 2007, she co- created the Dingmans Ferry Old Fashioned Carnival. The carnival continued until 2010. Her business also sponsored several Chili Cook Off contests held at Akenac Park during the Annual Harvest Festivals.
Philly was also actively involved in her church, Dingmans Ferry United Methodist Church. She was a member of the board of trustees, a worship leader, teached Sunday school, was a greeter and usher and also performed each year in their annual Dinner Theatre. She was usually the star of the play and each year's role seemed to fit her every day personality. It had become an ongoing joke that the director of the play was starting to stereotype her roles.
When she wasn't busy working or volunteering, she loved to watch her husband play his guitar or sing. No matter how exhausted she was, traveling to wherever he was playing was a necessity. The love that she and John shared was inspiring. She also loved entertaining at her house for every holiday. Christmas was her favorite. From decorating to gift buying to beginning to listen to Christmas music as early as September. Let us not forget her admiration for the Mets. Every single year she remained a loyal fan and reminded us all that a true fan sticks with the team no matter how well they do.
Philly was a terrific Mother, Wife, Daughter, Sister, Aunt, Friend, Godmother and Mentor. Her Family was first and foremost and she touched everyone she met. Her smile and infectious laughter filled a room wherever she was. Philly had truly believed in the Pike County Chamber of Commerce and what it does for a community and her passion & commitment showed in all that she did for the Chamber.
We thank you Philly for all that you have done in this world and you will be truly missed by all who knew you. May you Rest in Peace. Soar high Dragon Fly.